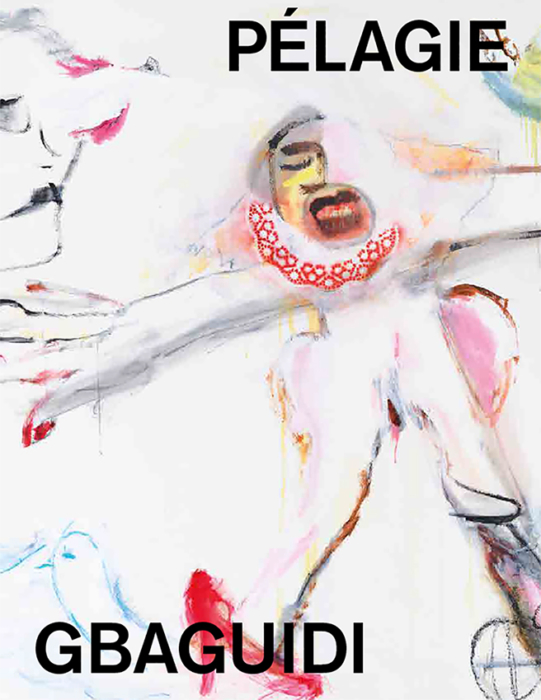 Look inside
The committed oeuvre of Pélagie Gbaguidi

In this publication, Pélagie Gbaguidi's (b. 1965) presents new paintings as well as works with textiles and drawings. The artist calls herself a contemporary 'griot', which she defines as someone who functions as an intermediary between individual memory and ancestral past. Her work is an anthology of the signs and traces of trauma and is centred on colonial and postcolonial history. She aims to reveal the process of forgetting by recontextualizing archives and histories. The images that Gbaguidi creates – through painting, drawing, performance and installation – seek to escape from binary thinking, archetypes and simplifications.
In 2021 Pélagie Gbaguidi created a fresco at the Centre Pompidou in Metz, inspired by the writings and works of Etel Adnan. Currently, her work can also be seen at the Centre Wallonie-Bruxelles in Paris and at Z33 in Hasselt. At the Frans Masereel Centrum in Kasterlee, she recently developed two lithographs on the subject of global hunger.
Pélagie Gbaguidi has participated in several international exhibitions. Her work has been displayed at the Centre Pompidou in Metz, Middelheimmuseum in Antwerp, WIELS in Brussels, Musée d'Art Contemporain de la Haute-Vienne in Rochechouart, the Stadtmuseum in Munich, MMK in Frankfurt and the National Museum of African Art – Smithsonian Institution, Washington D.C.
In collaboration with Zeno X Gallery, where her solo exhibition Le jour se lève runs until April 30, 2022.
28,5 x 22 cm
112 pages
Hardcover
Quadrichromy
English edition
ISBN 978 94 6436 652 5
Related books