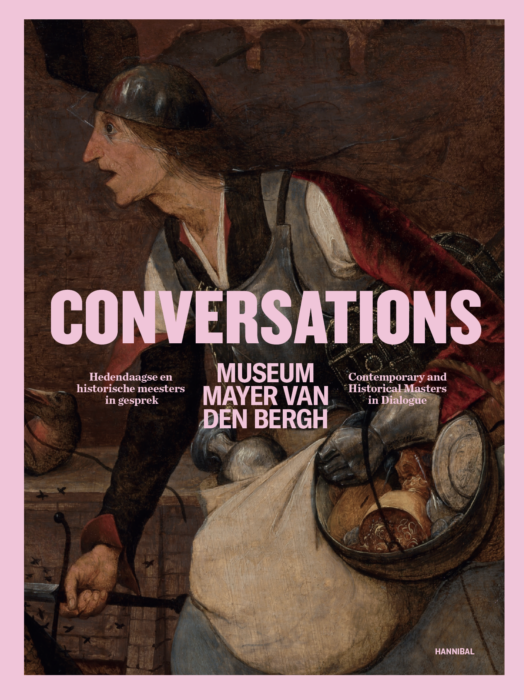 Unique cross-fertilisation between contemporary and historical masters in the Antwerp Museum Mayer van den Bergh
This autumn, Museum Mayer van den Bergh invites 15 contemporary artists to enter into a dialogue with its impressive collection. The works of Bram Demunter, Marcel Dzama, Adrian Ghenie, Kati Heck, Leiko Ikemura, Edward Lipski, Jonathan Meese, Ryan Mosley, Muller Van Severen, Tobias Pils, Tal R, Ben Sledsens, Dennis Tyfus, Inès van den Kieboom and Rinus Van de Velde are placed alongside Pieter Bruegel's world-famous Dulle Griet ('Mad Meg'), but also next to the portraits of Cornelis De Vos and Alessandro Allori, still lifes by Antwerp masters such as Daniël Seghers and works by Jacob Jordaens, Joachim Patinir and Gerard de Lairesse. A number of artists have also been directly inspired to create new work, including Jonathan Meese, Tal R, Ben Sledsens, Bram Demunter, Rinus Van de Velde and Dennis Tyfus.
Publication accompanying the exhibition Conversations in Museum Mayer van den Bergh, Antwerp, from 10 November 2023 to 3 March 2024.
With a text contribution by Carl Depauw, director of Museum Mayer van den Bergh.

21 x 28 cm
184 pages
Softcover with flaps
Quadrichromy
Bilingual edition Dutch-English
ISBN 978 94 6466 680 9
Related books