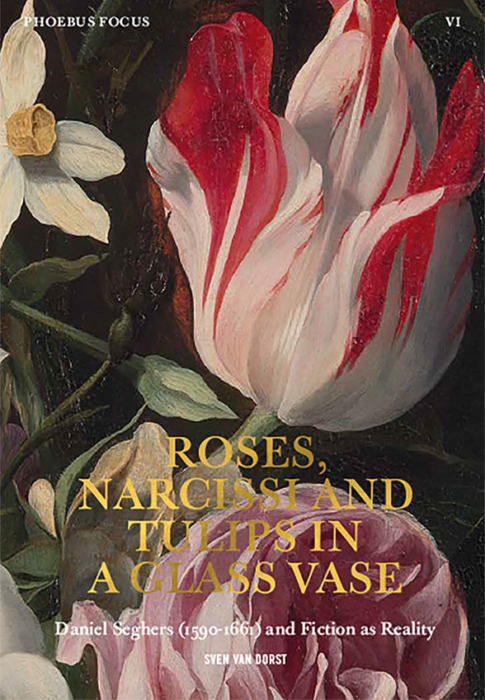 Phoebus Focus VI
On the smooth curved surface of a glass vase a window is reflected. Light filters through that window into the painter's studio, which is also a monastic cell. Paintings by Daniel Seghers (1590-1661) may adorn the halls of kings and princes, but the artist himself has chosen an austere existence within the walls of a Jesuit community.
The Roses, Narcissi and Tulips in a Glass Vase from The Phoebus Foundation collection is a subtle triumph over the inexorable passage of time. The flowers have not faded. The window of Seghers's humble studio is still reflected in the vase. This work of art is a gateway to a vanished world, the seventeenth-century universe of Daniel Seghers.

Sven Van Dorst (1990) gained his master's degree in conservation and restoration from the Royal Academy/University of Antwerp. After working at the Royal Museum of Fine Arts Antwerp, he completed his training at the Hamilton Kerr Institute, a department of Cambridge University. In 2016 he founded the conservation studio of The Phoebus Foundation. As head of the studio, Sven assembled a team of passionate conservators and conservation scientists who manage the Foundation's collection on a daily basis. Among the paintings he has treated are works by masters such as Peter Paul Rubens, Jacob Jordaens, Anthonis Mor and Michaelina Wautier. Between 2017 and 2020, Sven led the research and restoration project of the St Dymphna Altarpiece by Goossen Van der Weyden.
21 x 14,8 cm
64 pagina's
Softcover
Quadrichromie
Engelstalige editie
ISBN 978 94 6436 639 6
Gerelateerde boeken
Geen boeken gevonden